10 Most Popular Projects in June 2015
The Tamarind, the executive apartment by E&O has once again ranked the most popular project of the month in June 2015. With the opening of second tower for registration, it is expected to spur short-run demand for this apartment in Tanjung Tokong.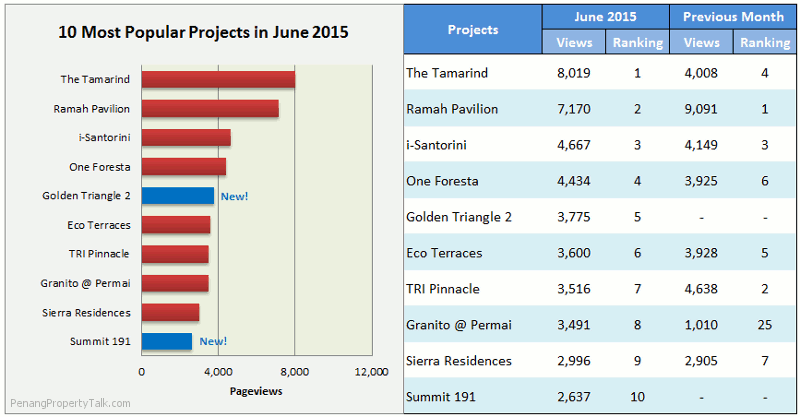 On the affordable segments, Ramah Pavilion remain as the most popular affordable housing scheme last month, followed by i-Santorini and One Foresta. Recently introduced Granito @ Permai and Sandiland Foreshore seems getting a lot of traction too. On the flip side, the affordable housing in the mainland, namely Jirane Residensi and Hijau e-Komuniti, doesn't move the needle at all. Clearly, location does matter!

To know more about the current and upcoming affordable housing projects and location, below is the page that you should not missed out:
Affordable Housing Projects & Location
PenangPropertyTalk.com concluded the first half of 2015 with approximately 38.9% organic traffic growth mainly driven by affordable housing and positive sentiments toward Penang property market. Over 800,000 visits were seen during the past six months, with a total of more than 1.8 million page views.
* Projects are ranked based on the actual number of clicks & views in Google Analytic web traffic report for PenangPropertyTalk.com.
PREVIOUS MONTH: 10 Most Popular Projects in May 2015