Penang earmarks five areas for PPR with Rent-To-Own scheme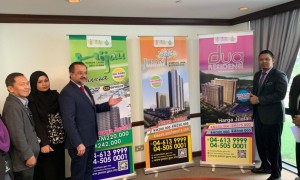 The Penang government has identified five plots of land, specifically for the People's Housing Projects (PPR).
State Local Government, Housing, Town and Country Planning Committee chairman Jagdeep Singh Deo said they have earmarked two such plots on the island and three on the mainland.
He said the five plots of land, totalling 72.3 acres, are in Bandar Jelutong, Jalan Mayang Pasir, Ujung Batu, Kampung Tongkang and Batu Kawan.
He said the state is always committed to looking into the plight of those in the lower-income group.
As such, he said the state would continue with its Rent-To-Own (RTO) scheme for PPR despite the Federal Government's plans to rebrand such scheme.
"I have urged the state Housing Department and Penang Development Corporation (PDC) to write into the Housing and Local Government Ministry.
"This is to ensure that part of the RM10bil allocation announced for the national budget for next year could be used to fund such a scheme.
"Penang will still be maintaining the RTO scheme to assist those in poverty to rent before owning PPR units," he told a press conference at the PDC office in Bayan Baru today.
Jagdeep said PDC currently has 20 projects that make up a total of 21,484 units.
Out of that, 1,568 units had been built, 3,677 units are in various stages of being built and 16,239 units have already been approved to be built.
The 3,677 units being built, he said, come from seven projects.
"Three of the seven projects are scheduled to be completed in the first quarter of next year.
"They are Dua Residensi in Teluk Kumbar with 694 units, Jiran Residensi in Kampung Jawa, Central Seberang Perai district with 707 units and Kepala Gajah, South Seberang Perai district with 41 units," Jagdeep added.
He said PDC also had been directed to write into the ministry to ensure that those whose loans had been rejected by banks would be given priority for federal funds to buy the unsold units.
Source: Buletin Mutiara