Ideal Property Group Wins Top 10 Developer Award at PIPDA 2019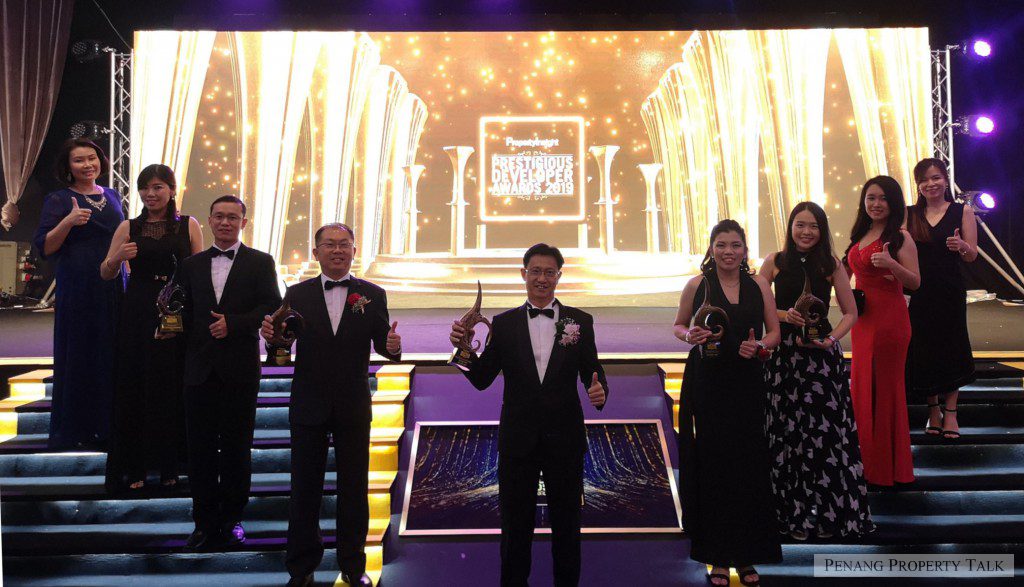 Penang's leading developer, Ideal Property Group, was recognised as among the best developers in Malaysia, during the recent Property Insight Prestigious Developer Awards (PIPDA) 2019 presentation ceremony held in Kuala Lumpur.
The Property Insight Prestigious Developer Awards 2019 serves as a benchmark for local property developers to strive for, celebrating top award-winning developers and recognises their contribution to the country. Ideal Property Group bagged the 'Top 10 Developers' award as well as 'Best Philanthropic Award', for its overall achievements and in recognition of Ideal's immense CSR contributions towards the society.
Ideal recorded an impressive win during the ceremony with another 3 more of its developments recognised in various categories, which include 'Best Family Centric Development' for project The Amarene; while project Queens Waterfront took the 'Best Luxury Lifestyle Development' as well as 'Best Leisure Waterfront Development'.
"We are truly humbled to receive these multiple wins from PIPDA, and we thank all our customers, business partners and the Ideal team in making these accomplishments possible!
This award has measured our growth and rewarded our efforts thus far. Having this remarkable accolade under our belt, Ideal is ready to raise the bar and look forward to contribute positively to the industry." said by Dato' Ng Tyan Ping, Chief Operating Officer of Ideal Property Group.
Landing the excellence accolade under the 'Best Luxury Lifestyle Development' and 'Best Leisure Waterfront Development' categories, an award that gives recognition to master plans that is built to be centered on water bodies and utilizes water features for an aesthetically appealing environment, Queens Waterfront, wrapped up with nautical theme with their outstanding landscape features.
Queens Waterfront presents the best waterfront living through its unique nautical inspired development theme consisting of alfresco dining, a marina bay and a 700 meter promenade that offers residents a desirable waterfront lifestyle.
It comprises 4 phases of resort-inspired condominium, with signature waterfront alfresco available at the ground floor and commercial areas at first floor facing to a 6-acres marina and 700-meter long promenade. The development is placing residential, commercial spaces and recreation all within close proximity for maximum social and economic benefits.
The development is further embraced with an international sports center and international school/ private school. The link bridge from Queens Residences Q2 allows safe and easy connection for publics and residents to access in between sports center, school, Queens Residences, as well as Queensbay Mall.
The other development, The Amarene, was also recognised as the winner under the 'Best Family Centric Development' category. This award is for the development that places families on priority, ie developments that emphasizes family-friendly recreational and communal facilities for purpose of fostering close bonds within a safe and secure environment.
The Amarene is a perfect place for those who are about to start a family or for families who are looking for the ideal place to settle down. The well-planned community development has quick and easy access to the Penang International Airport, hypermarket, hospital, healthcare centre and other conveniences. In addition, primary, secondary and international schools are close by.
Located in Bayan Lepas, Penang, The Amarene comes with built-ups of 1,100 sq ft and 1,200 sq ft units which are designed with practically and spaciousness in mind. The 1,200 sq ft is available with the dual-key layout for owners to enjoy the option of investment, for rental, or even for own stay which accommodates multi-generational living under one roof.