Eden at Botanica CT – Penang's First Integrated Senior Living Resort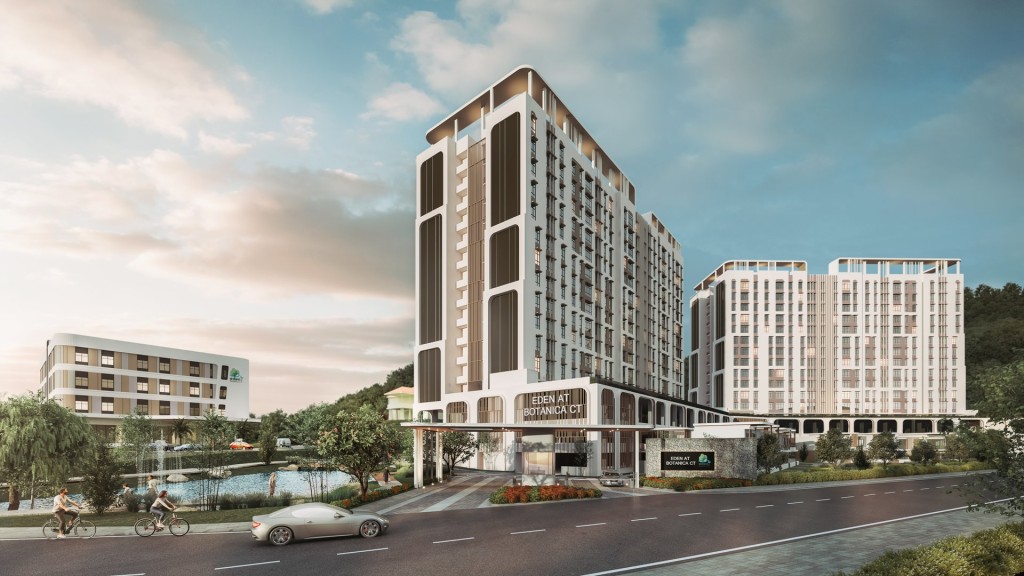 Located at the heart of a growing garden township on Penang Island, Eden at Botanica CT (EABC) is the first integrated senior living resort in Penang featuring a purpose-built Active Living Resort that provides accommodation and services to active seniors who are seeking independent living and a full-fledged nursing Care Residence that provides professional licensed nursing care for those who require constant care.
EABC is located at Botanica CT, near the town centre of Balik Pulau, which is at the south-west of Penang Island and located 17 km away from the Penang International Airport. The 300-acre garden township of Botanica CT currently features terrace homes, bungalows, apartments, a commercial zone, and the award-winning Prince of Wales International School. In the near future, the Botanica CT Centre, a Wetland Park, a Medical Centre and a Health & Spa Report as well as the EABC will be completed, making Botanica CT a self-sustainable township with facilities that are attractive to senior citizens.
EABC contains active living apartments for the growing population of senior seniors who are independent and do not need any assistance in day-to-day living as well as those who are still largely independent but need some assistance. It is designed to provide secure and safe living surroundings supported by state-of-the-art features and services tailored to the residents, all in a sustainable and serene environment.
The active living apartments will offer flexible services and facilities that support senior citizens in their day-to-day living. These services include emergency response call system, personal medical record keeping, on-site carers for immediate care support as well as non-care services such as housekeeping, laundry, transportation. These services will be complemented by a range of recreational facilities in the resort including indoor and outdoor amenities. Social activities will be organised to give the residents an opportunity to get to know each other and form communities with like-minded senior citizens.
The active living apartments come in various sizes to suit the needs of individuals, ranging from 1 bedroom at the size of 740 square feet, 1+1 bedrooms at the size of 880 square feet, 2 bedrooms at the size of 970 square feet to 3 bedrooms at the size of 1,100 square feet. All units offer spacious layout with aged-friendly features to suit the growing needs of seniors without compromising the comfort, safety and privacy of living in their own home. Residents may choose from a range of furniture packages that will enable them to move in hassle free.
The nursing Care Residence caters for senior citizens who are no longer able to live independently. Tried and tested proprietary nursing care systems will be implemented to dispense appropriate care, support and medication to the residents. The categories of nursing care encompass long and short-term residential care, including those with medical conditions. The nursing Care Residence will be one of the few care homes in Malaysia that will be licensed by the Ministry of Health and the Department of Social Welfare under the Ministry of Development of Women, Family and Community.
EABC nursing care team comprises licensed nurses and professional care givers trained in a unique elder care giver training academy operated by the in-house team. This training academy provides an 18-month training programme which has been recognised by the Ministry of Human Resources. In the academy, trainees will undergo a rigorous training syllabus that focuses on care for the elders, covering both physiological and emotional aspects of care.
Eden at Botanica CT is a joint venture between Botanica Hills Sdn Bhd (an associate company of MTT Group of Companies) and Eden-On-The-Park, Kuching.
Visit the new Sales Gallery and Show Unit from Monday to Sunday from 10 am to 6 pm at No. 32 & 32A, Jalan Sungai Air Putih, Bandar Baru Air Putih, 11000 Balik Pulau, Penang.
For directions to EABC Sales Gallery, please click on the link below:
Waze: http://www.bit.ly/EABCPenang
For more information, please follow EABC on Facebook at www.Facebook/edenatbotanicact/ or visit www.edenatbotanicact.com.my
Alternatively, you can call 017-311 2699 from Monday to Sunday from 9 am to 6 pm.