Triuni Residences – Penang's Most Coveted Addresses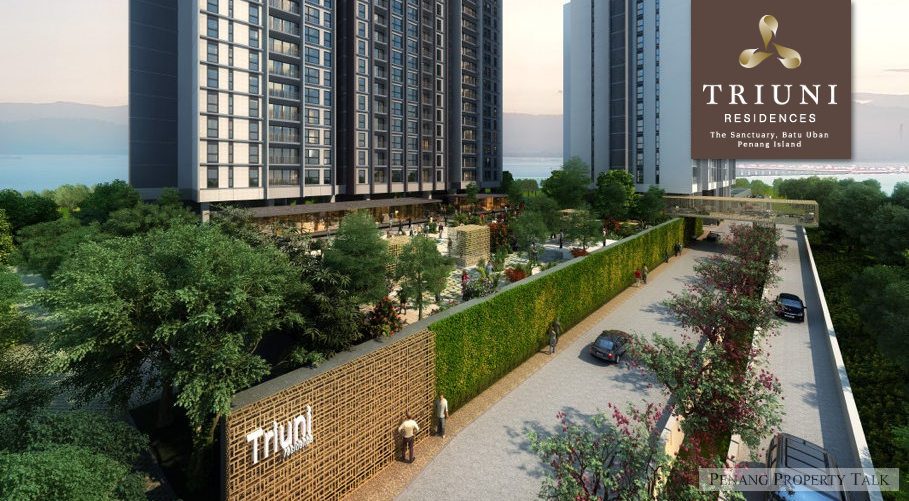 Contemporary, down to every thoughtful detail, from the architecture and landscaping to the sleek modern finishes, the Runnymede Group's latest offering in Penang is nothing short of luxurious. In fact, this particular slice of Batu Uban is another crowning achievement to this niche property developer's 25-year track record of pushing the boundaries of elegant, green-friendly, luxury real estate developments not just in Penang but also in Kuala Lumpur and Western Australia.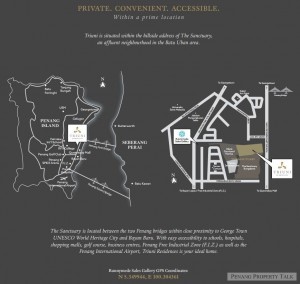 Located within the 28-acre masterplan of The Sanctuary in Batu Uban – one of the island's most exclusive and affluent neighborhoods – Triuni Residences commands stunning vistas of verdant hills, Pulau Jerejak and the Straits of Malacca. Spanning just over five acres of magnificently landscaped gardens, this landmark domicile blends an exclusively Australian-designed landscape with an internationally acclaimed architectural practice to bring to life homes and facilities that cater to all generations, at any stage of life, be it first-time homeowners to matured families and even retirees.
Where most Penang properties average 100 units per acre, this freehold investment with residential titles plies only 34 units per acre. Celebrated for its impeccable design, Triuni Residences @ The Sanctuary encompasses 552 units across three towers, flaunting less than 200 units per tower and no more than 10 units per floor. Each tower is serviced by three premium-efficiency elevators to ensure minimal wait time. For extended security and privacy, its wide landscaped driveway provides direct access to individual lift lobbies.
Triuni Residences' unique detached and semi-detached designs promise the utmost in privacy, yet these lavish spaces unabashedly welcome invigorating beams of sunlight complemented by the refreshingly soothing sea air, enhancing your sense of space and well-being. Purposefully designed with practicality in mind, the residences range from three to five-bedroom units and interior areas varying from 840sf to 1,916sf.
Each unit has been meticulously planned to maximise space efficiency while segregating individual private and entertainment zones. To parallel its opulent persona, Triuni Residences employs high-quality finishings, homogeneous natural stone tiles and exquisite solid timber flooring. To ensure the best in work life balance, all units are conferred with a balconied study or personal office space boasting exhilarating views to motivate and inspire.
Beyond the walls of the residences lies an expansive communal area. An impressive haven in itself, this thematic resort-styled facility is spread across almost three acres of verdant green landscape designed exclusively for outdoor and recreational activities. At the centerpiece is a 40-meter, cascading infinity lap pool, flanked by multiple indoor gyms, flourishing herb and spice trails and contemplative gardens accommodating reflexology paths, chess tables, leisure pools, a jacuzzi, cabanas, an observatory deck and a full-scale children's play area, complete with tree cubbies, a whirly pool with water jets.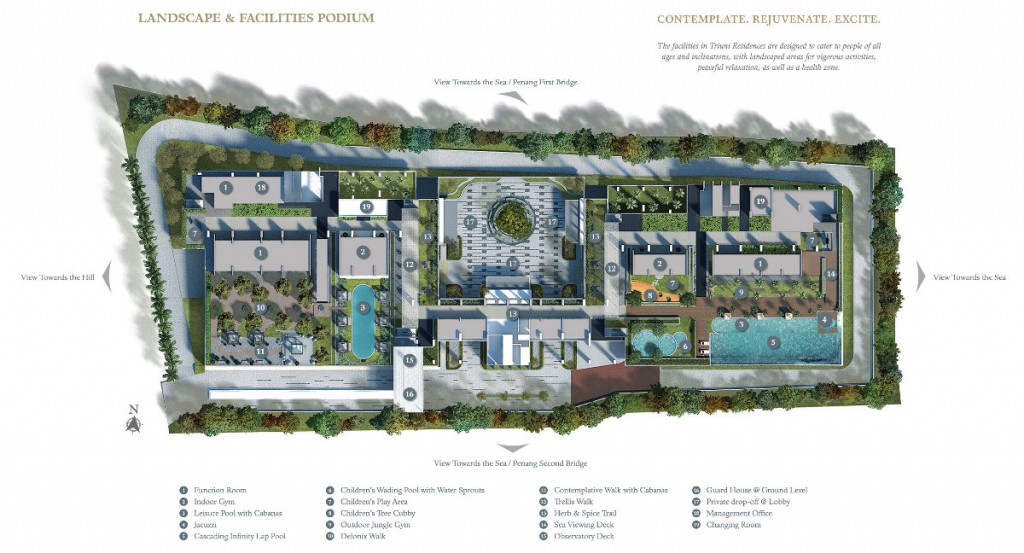 When it comes to special occasions, residents need not have to leave the premises to host celebrations or gatherings. Triuni Residences offer the convenience of a wide choice of function rooms to accommodate groups of just about any size.
On a higher note, residents can take advantage of the Sky Garden. A stunning rooftop parcel of space plying unobstructed panoramas of the Penang skyline. Perfect for that "me-time" to unwind or quality time with a small circle of friends and family.
Seeking sojourn within The Sanctuary doesn't mean you're completely cut off from the outside world. While residents enjoy the isolation from the madding crowd, they're also within easy connection of essentials and necessities. Strategically located between the first and second Penang Bridges, the development is only minutes away from the Bayan Lepas Industrial Free Trade Zone, Queensbay Mall, Pantai and Lam Wah Ee Hospitals, the Penang Golf Club, University Sains Malaysia, Inti International College, Fairview and Straits International schools as well as a host of local educational institutions.
To date, it's become one of the most sought-after properties in Penang. In fact, Triuni Residences' Tower A is near completion with only a limited number of 1,636sf and 1,916sf units available. Meanwhile, 70% of Tower B, comprising only 192 units, has already been snapped up in the last 8 months with limited availabilities of the 1,216sf and 1,302sf units. Tower C will be launching soon and is now open for registration.
Interested parties may find out more at the Runnymede Group (www.runnymede.com.my) or Triuni Residences (www.triuni.com.my) websites. Or call 04-659 8899/ 019-415 5881/ 012-519 7785 to speak to a Runnymede Group Sales Executive.