No much improvement in housing affordability despite soft property market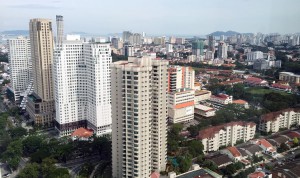 There has not been much improvement in Malaysia's housing affordability despite a slow and challenging property market with little growth in transactional activity from the downtrend that was seen since 2013, according to real estate consultancy firm Rahim & Co International Sdn Bhd.
Executive chairman Tan Sri Abdul Rahim Abdul Rahman said this is because while the number of transactions fell, the value did not drop much.
"This shows that prices have not gone down so much as opposed to the number of transactions. Although developers are under pressure to lower their prices but they can lower their prices so much only after taking into consideration cost of building," he added.
Rahim & Co research director Sulaiman Akhmady Mohd Saheh said housing affordability is calculated as ratio of average house price to median annual household income, or the number of years of annual income needed to cover the cost of buying an average house.
"An average terraced house would cost Malaysians 5.3 years of their household income," he told a media briefing at the Rahim & Co's property market review 2017/2018 here yesterday.
According to its research Johor's housing affordability rose to 3.9 years, from 3.7 a year ago despite transaction value falling in the state, while Selangor's and Penang's remained flat at 5.2 years and 6.9 years respectively.
Prospective home buyers in Sabah need the most number of years at 8.4, a slight improvement from 8.5 in 2016. Those in Kuala Lumpur saw a slight improvement in affordability with 6.8 years of household income in 2017, from 7.0 in 2016.
Sulaiman said 2014-2016 saw a slight improvement in housing affordability as the income level of households increased. However, in 2016-2017 income growth was at a slower pace compared to the growth in house prices.
"The government's Economic Transformation Programme of moving from a middle income nation to a higher income nation is a big challenge currently," said Sulaiman.
Rahim however opined that it was not all doom and gloom for 2018, explaining that the property market will be flat this year and not go into recession, with the impending elections expected to provide firmer direction for the nation, hence re-igniting the momentum in the property sector.
The high-end residential category remains flat with prices contracting 10% in the past 18 to 24 months, or 15%-20% lower than the original asking prices in the secondary market.
In the office sector, oversupply concerns continue to lurk as the Klang Valley's supply reached 131 million sq ft. With incoming supply of 18-20 million sq ft estimated to enter the market in the next few years, continued pressure will be seen on the occupancy rate and effective rental rates.
In the retail category, a further 18.2 million sq ft is expected to become available over the next four years, adding further pressures on retail mall owners. As at 2017, there was 69.8 million sq ft of retail space in the Klang Valley with an average occupancy rate of 85.2%.
"The retail and office segment will see continued pressure, which makes developers more creative and accommodative to new tenancies," said Sulaiman.
Source: TheSunDaily.my