Dreams Homes on Offer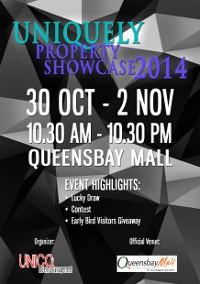 From chic nest eggs for one's golden years to cozy cul-de-sacs for your burgeoning family, the Uniquely Property Showcase 2014 aims to offer property enthusiasts of all ages and income groups an affordable route towards their ideal dream homes.
Taking place from October 30th till November 2nd at one of the Pearl of the Orient's most popular shopping haunts, the Queensbay Mall, the second installment of the property extravaganza features booths and exhibitions by close to a dozen of the industry's biggest movers and shakers including such illustrious names as Alor Vista, Best World
Realty, Gold Mart Development, Handle Property Group, KL Metropolitan, Oriental Max, TFDC Asiacorps well as Sunway Group and promises a myriad of not to be missed deals, promotions and exclusive rebates.
The brainchild of Penang based Unico Events Management, project manager Michael Chow believes that the wide range of developers on show helps set the showcase apart from other such fairs and exhibitions and will certainly appeal to a broader target audience of both local and foreign property investors alike.
"The main aim of the 2014 Uniquely Property Showcase is to showcase a diverse array of projects and developments that would appeal to all walks of life. Whether you are newly-weds in search of their first home or an expatriate seeking for an abode for their retirement, there is something on offer for everyone."
The most prominently featured projects and developments include Best World Realty's Mines Waterfront Designer Suites and Woodsbury projects in Klang Valley and Butterworth respectively. Not to be outdone, the much lauded Sunway Group will also be showcasing its eagerly anticipated Bukit Mertajam and Batu Maung based projects, the Sunway Wellesley and Sunway Cassia.
There are also a variety of projects based in up and coming property hot spots such as the isle's rapidly developing Ayer Itam, Balik Pulau and Sungai Ara areas whilst well to do visitors seeking for foreign property investments certainly should check out exhibitions by TFDC and Handle Property Group for the low down on delving into the
Canadian and Australian markets respectively.
Previews aside, the showcase also offers patrons a plethora of information on the ins and outs of today's property including advice, tips and consultancy on just how to go about making the most of your investment from some of the industry's leading experts.
"We are well aware that many Malaysians, particularly middle income earners have their concerns over the consequences of next year's GST implementation and how it affects the market. The showcase is a great opportunity to learn more about it as well as grab the best deals on your dream property prior to its implementation," explains Michael
Chow.
Visitors will also be in the running for exclusive prizes and gifts as the organizers have set about crafting an array of lucky draws, contests, early bird giveaways and pre event Facebook offers.
The organizers, Unico Events Management, are made up of a team of dedicated and professional event enthusiasts with vast experience in planning, managing and carrying out unforgettable and memorable events ranging from large scale exhibitions to dream weddings and private functions.
[Sponsored Ads]